Think you just cleaned your entire house from top to bottom? Think again. If you ever wondered how much homeowners insurance should cost, you might not realize that proper home maintenance can help keep your house safer and might even reduce your Florida homeowners insurance bills. If you already own a home, during your annual spring cleaning might be a great time to consider these Florida homeowner tips to keep your house extra clean, safe, and in some cases, a bit cheaper to insure! Here are the 5 things most people forget during spring cleaning.
5 Things You'll Probably Forget to Clean This Spring
1. Fireplaces and Fireplace Chimneys
Some parts of the Sunshine State get cold enough in the winter to make a fireplace handy. The Chimney Safety Institute of America says that clean chimneys don't catch fire, but dirty chimneys are definitely a safety hazard.
2. The Roof
Debris on the roof harbors algae, mold, and other organic life that can stain or damage a roof in time. Also, keeping the roof clean may uncover small damage that can get repaired before it turns into bigger damage. Read about the dangers of roofing scams.
3. Sewer Lines
People who live with a lot of trees between the external sewer trap and main sewer line, especially older homes with older sewers, need to consider the possibility of tree roots pushing their way into the sewer pipes between the joints. This happens typically during spring rains. Commercial root killer for sewers can prevent a nasty sewer backup and potential damage, so taking this easy and inexpensive proactive step could help.
4. Clutter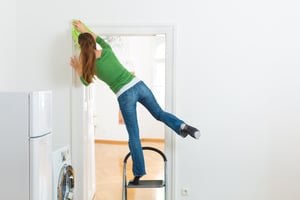 Houses can be clean even if they are cluttered, but clutter tends to cover up dirt. It also provides hiding places for insects and, in some places in Florida, snakes and other unwelcome critters. Spring is a good time to get organized as a way to save time and help keep a home healthier and safer. Find out what else is hiding in your closets.
5. Tree Branches
The yard might need some spring cleaning too. During spring and summer rains or windstorms, dead branches could fall on property or even people. High winds could even drive branches through a window.
Deep cleaning sessions are also a great time to walk through your house and take inventory of your personal possessions. If you were to suffer a total loss, could you remember everything that you own? Use our free Home Inventory Checklist to keep track of your belongings in case of a claim.