As you plan your holiday party, make sure you have the right Florida homeowners insurance in place to stay safe. Here are 10 ways to be a responsible holiday party host: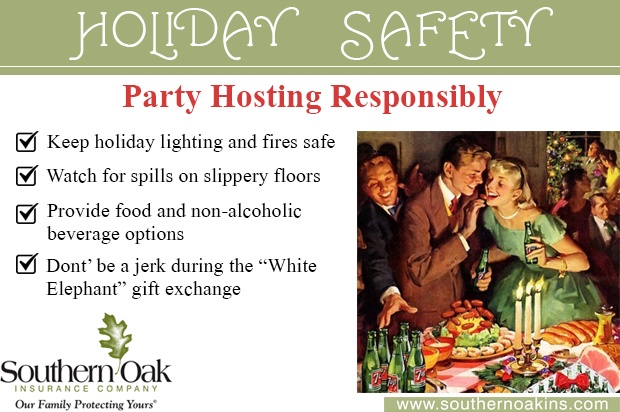 Provide food and non-alcoholic beverage options
Food and non-alcoholic beverages won't make anyone feel left out.
A bartender keeps an eye on alcohol intake and switches to non-alcoholic when needed.
Be aware of any food allergies that may be present
Knowing beforehand will prevent people from getting sick.
Have a shoes-on policy in place
A shoes-on policy will help feet from getting injured on the floor.
Watch for spills on slippery floors
This will avoid slip and falls.
Keep holiday lighting and fires safe
It's easy for something to catch fire when overloaded. Make sure you have this under control.
Don't be a jerk during the "White Elephant" gift exchange
Always keep it positive, even when gifts are awkward.
Have numbers of local taxi companies handy
For those people who have had just too much to drink.
This promotes pool safety, and prevents falling in.
Invite guests to sleep at your home
Your guests may not be able to drive. Offer them a sofa or spare bedroom.
This promotes holiday home safety and helps protect your home insurance Florida policy. Keep your family safe all year long and download our Family Emergency Plan!