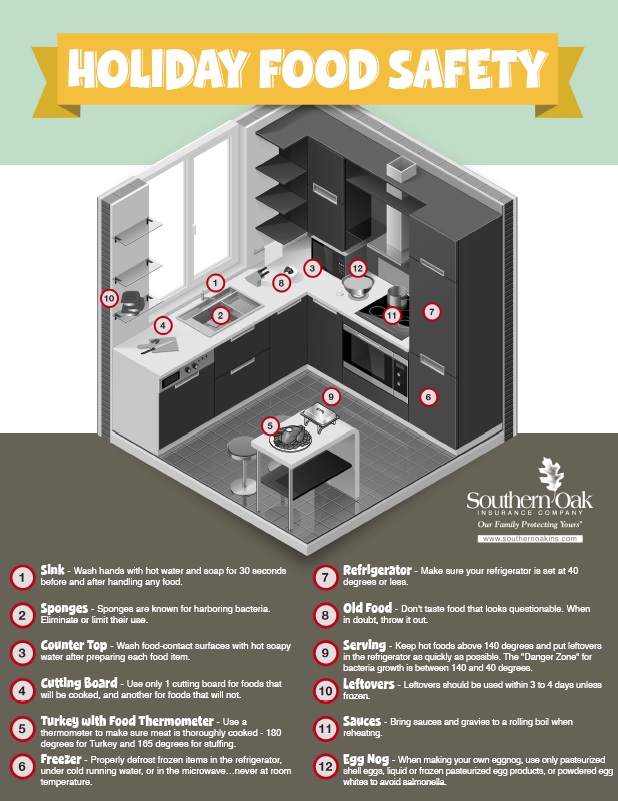 As the holidays approach, having the right food safety plans in place can protect your health, save you time and save you money. There are a number of things that can occur during this time, especially in inclement weather. Having the right Florida homeowners insurance policy in place to assist while using the right food safety tips can give you peace of mind. Here are a few:
Cook your foods thoroughly
It's important to make sure your foods are cooked all the way through to avoid bacteria and sickness. Use a thermometer, and don't leave foods out too long.
Refrigerate
After everyone has eaten, make sure you refrigerate your food. The rule is two hours after it has been prepared.
Defrost meats
When you have frozen meat, take the time to defrost it so you won't have a turkey done on the outside and raw on the inside.
Don't double dip
After using a utensil, wash it off before putting it into another dish. This can contaminate food very quickly.
Wash your hands
The ultimate rule – wash, wash, and wash again. Use hot water and soap for at least 20 seconds to make sure you wash all the bacteria off. Clean hands are a safe way to avoid contaminating other foods.
Work with your agent to obtain the best homeowners insurance that will benefit you not only during the holidays, but anytime you need it.
Keep your family safe all year; download our Family Emergency Plan today!