If you've ever been the unfortunate victim of identity theft, you know all too well the terrible wave of panic that sweeps over you the moment you realize your information has been stolen and used fraudulently. You also know how difficult it is to put the pieces back together and recover from an incident. When considering if identity theft protection should be included in your homeowners insurance policy, consider the following.
Florida – The Identity Theft State
When it comes to stealing personal information, Florida leads the nation with over 361 complaints per 100,000 residents according to Miami U.S. Attorney, Wilfredo Ferrer. His office alone prosecuted 270 identity theft defendants in 2012 which involved $449 million in tax refund claims and over 76,000 identity thefts. As residents of Florida we need to be even more vigilant about preventing identity theft as well as what we can do if we become victims.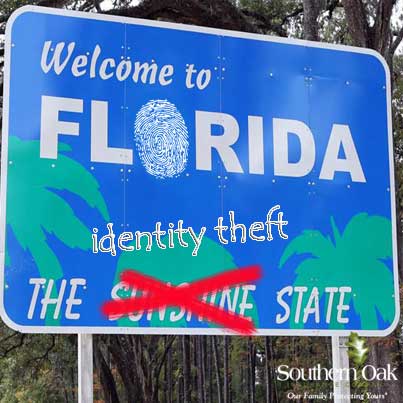 They're Not Just Looking for Financial Information
The common information that we protect are our checking, savings, and credit card account numbers. They're the most obvious targets. But identity thieves can do just as much damage (if not more) with information like your mother's maiden name and your social security numbers. Think of all the places where information like this is stored and shared. It's a monumental task to protect it all.
Non-Digital Data Breaches
We hear about digital data breaches all the time and protect ourselves with spyware, malware, and anti-virus protection on our computers. But think about all of the other places where your personal information lives. Your doctors' offices, your utility companies, your homeowners association…the list goes on and on. It only takes one careless or dishonest employee and your personal information could be in the hands of an identity thief.
Identity thieves are constantly evolving and hiding in the shadows where they are seldom if ever caught. Southern Oak Insurance knows that protecting families means more than just protecting their homes, which is why we offer optional Identity Theft Coverage on our homeowners policies. If you become the victim of identity theft or fraud, Southern Oak will be there with up to $25,000 worth of coverage to help pay for expenses incurred as a result of the theft.
Identity theft is almost never the fault of the victim. Unfortunately, it is the responsibility of the victim to clean it up. Be sure that your homeowners insurance company will be there to help you get back on your feet. Feel free to ask your agent about Southern Oak's optional Identity Theft coverage and how you can add it to your homeowners policy quote or existing homeowners insurance coverage.

Comments are closed.