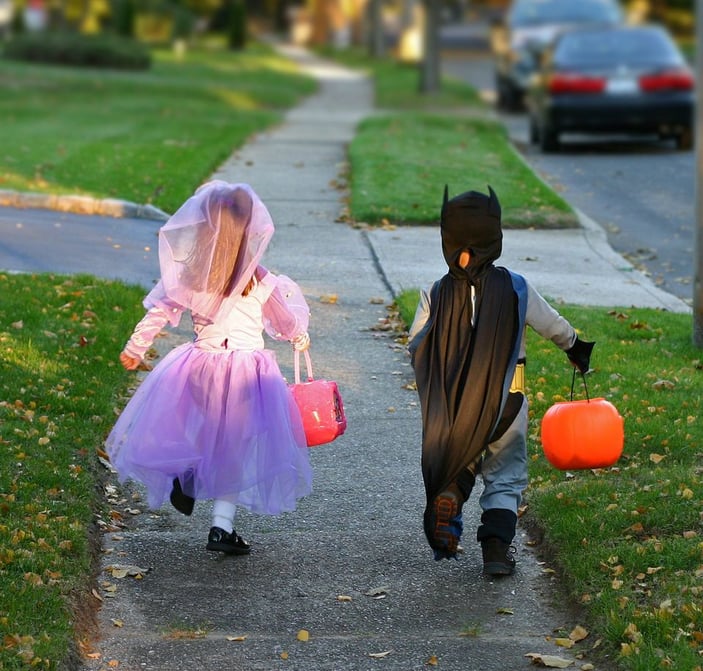 When it's time for your kids to trick or treat alone for the first time, Halloween gets extra scary. Sure, you want your kids to have fun on this year's spooky holiday, but you know safety has to come first. Here are a few quick Trick or Treating Safety Tips.
You're not alone in this. Many parents struggle with how to give their kids freedom without compromising their well-being. Luckily for you, we're here with a short primer on trick or treat safety for this year's Halloween festivities.
Keeping your child safe starts with getting them a costume that is flame retardant, won't make them uncomfortable and itchy, and can be seen in the dark. The next step is to ensure they'll be safe on the go, so make sure their hands are free, they have a buddy to travel with, and they know how to differentiate between safe houses and those they should avoid. Lastly, warn them not to open or eat treats until they're home. Click the "Trick-or-Treat Tips" image for a handy printable copy.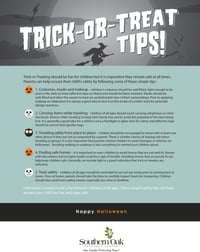 Don't forget to make sure your own home is safe for all of the ghosts and goblins who will be ringing your doorbell. Make sure your porch and walkway are well lit and free of any potential safety hazards. Repair loose steps or railings, etc. If you have Halloween decorations, make sure all cords are out of walkways and outlets are protected. Lastly, if you have pets that are easily excitable or nervous around kids/strangers, put them in a bedroom or enclose them in an area away from the doorway until the trick-or-treaters subside.
Help keep your family safe all year and download a Family Emergency Plan. Here at Southern Oak Insurance, we're all about safety. We want to make sure our clients know that. Happy Halloween!