This holiday season, millions of homeowners will welcome guests for overnight and extended visits. Young and elderly visitors require lots of extra consideration to keep them safe and many hazards can be easily overlooked.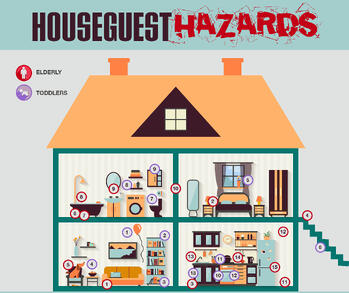 For example if you're expecting elderly guests this holiday season slips and falls are among the most significant risks. Some good general safety tips are to:
Remove or tack down scatter and throw rugs to prevent slip hazards
Remove electrical cords from high traffic areas to prevent tripping
Wipe up spills immediately
Contain especially frisky pets as they can also be tripping hazards
Additionally, kitchens and bathrooms are full of potential hazards for the elderly. Look for issues like these and repair or replace immediately.
Install a non-slip surface on the bottoms of tubs or showers
Be sure that "Hot" and "Cold" faucets are clearly marked to avoid surprises or scalding.
One-sided door locks are standard, but is is possible for an elderly guest to fall or become injured once a door is already locked. Having door locks that can be opened from both sides is critical for quick rescue.
Nobody loves the holidays more than kids and it's wonderful for grandparents to celebrate with their grandkids. Grandparents houses may not be the most kid-friendly environments for the little ones, however. It's important to remember tips like these before welcoming toddlers or small children into your homes.
While kids love balloons, a deflated balloon can be a real choking hazard for kids. Consider Mylar balloons or only allow kids to play with balloons while supervised.
Tall furniture like bookshelves and entertainment consoles can topple onto kids. Be sure tall furniture is anchored to the wall.
Dangling blind cords pose a strangling risk for toddlers. Tie-up blind cords high enough so kids can't reach them.
Ovens and ranges. Keep kids out of the kitchen while cooking and be sure pot handles are never turned out over the edge.
Stairs. Invest in protective gates and install at the top and bottom of each flight of stairs.
Do a quick walk-through before your holiday guests arrive this year to make sure your home is ready for visitors of all ages. With an ounce of prevention you can ensure that it continues to be the most wonderful time of the year for everyone.
Make sure the food you cook is safe for your guests as well. Download our free Holiday Food Safety Tip Sheet.