Buying a house is an exciting and stressful life event. New buyers have a lot to consider. Just getting a loan can take weeks. But mortgage payments are not the only costs involved. The location and condition of a new home greatly impacts future costs. This is because of possible repair costs and the price of Florida homeowners insurance. Also, city and county tax rates are higher in some parts of the state than others.
Buying a House: What to Think About?
These are some things to consider when buying a home in Florida: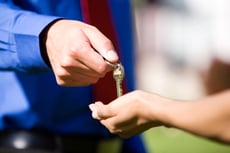 Flood zones: Basic Florida homeowners insurance doesn't cover floods from storms. Home buyers need flood insurance. Rates vary by flood zone. Find flood zones by ZIP code at FEMA. Learn more about flood insurance here.
Roof condition: Spot minor problems before they become costly repairs or allow damage to your whole house. Many insurers offer discounts for new and maintained roofs.
Location: Some neighborhoods are less risky than others. Consider distance from the firehouse. The local rate of thefts and other incidents are also important to consider.
Safety: Fire and burglar alarms have been proven to lower risks and claims. The best insurance companies offer discounts for safety systems.
Homeowners Insurance Florida: Compare and Save
Buying a house in good condition is one goal. Looking for the right location is another. The only task left is finding the best homeowners insurance. Everybody wants to save money. Still, home buyers should shop for value and not just premiums. USAA homeowners insurance and Southern Oak Insurance are good examples of companies that provide both value and comprehensive coverages with high customer satisfaction ratings to back it up.
Southern Oak Insurance makes its home in Florida. The company serves Florida homeowners with years of experience ensuring Florida property, an A (Excellent) financial rating, and a commitment to customer service. Home buyers can shop carefully for a new home and feel secure with this Florida homeowners insurance company protecting it.