Is buying a house stressful? EstatesDirect.com ran a poll to learn how people felt about it. This poll showed that buying a house gave folks more stress than having a baby. It also ranked more stressful than planning a wedding. This isn't that hard to understand. A lot of work goes into a home purchase. Getting a mortgage and planning a move can be stressful in themselves. Home buyers also have to find good Florida homeowners insurance.
Lenders require insurance. They need to protect their investment. Some lenders even suggest insurance companies. New home buyers might be tempted to take these suggestions. This relieves home buyers of one task and some lenders just want to be helpful.
Still, many buyers don't know exactly why lenders make these suggestions. New home buyers are free to shop for their own coverage. Choosing the right policy and insurance company take a lot of stress out of owning a house. Making a careful choice only makes sense.
Find the Best Homeowners Insurance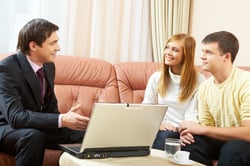 Do you want the best Florida homeowners insurance? Consider these factors:
Finances: All top insurers publish financial ratings on their websites. The better an insurance company's financial stability the more secure your family will be in the event of one or more major storms.
Customer service and billing: New home buyers should look for convenient customer service and billing options.
Customer satisfaction: Third-party sites publish consumer surveys and reviews.
Local knowledge: Florida is a unique state with unique homeowners insurance. Choosing an insurer based in the state with employees who are Florida residents is a good way to ensure they understand what you're going through.
Southern Oak Insurance has a Financial Stability Rating® of A, Exceptional from Demotech and we pride ourself on our intimate knowledge of Florida as a company founded and staffed by Florida residents. We focus on customer service and have partnered with USAA Homeowners Insurance to provide Florida residents with the same level of service USAA is known for nationwide. Our innovative MySouthernOak website is a place customers can login and find policy documentation or make payments at any time.
Just as you visit multiple homes before you make a decision on which is best for your family, be sure to compare multiple insurance companies before deciding which is best to protect your new home.