Shopping for homeowners insurance is just as important as shopping for the right home. Besides, "how much is homeowners insurance?" these seven questions and answers should help new and established consumers select good insurance agents who can help them find quality coverage for their own unique needs and budget.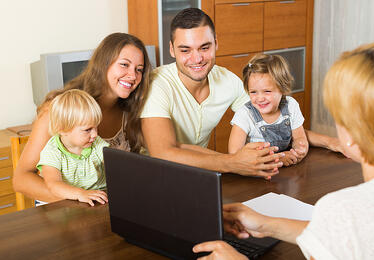 1. How are agents licensed?
Homeowners insurance companies only allow properly licensed agents to represent them, but there have been rare stories of agents who have sold worthless policies from fake insurance companies. Some stories even include state-licensed agents who got duped by representatives of fake companies and unwittingly passed the scam on to their clients. Meanwhile, it is easy enough to visit the local state insurance department website to verify both agents and insurers by phone or an online search.
2. Has a home had prior claims made?
Prior homeowners insurance claims may or may not factor into getting future coverage, but home buyers should always call an insurance agent in advance of closing to check. If a home has had several claims, it could impact future rates or even the ability to get coverage at all.
3. What does a homeowners insurance policy cover?
Typical homeowners insurance policies provide a package of protection that include these types of insurance against covered incidents:
Property: This includes the actual home and other structures on the property.
Personal property: Home contents insurance covers things inside of the home, and these include clothing, jewelry, appliances, electronics, and even drapery.
Liability: This covers homeowners in case a visitor claims that they suffered from property damages or injuries because of the owner's negligence.
Loss of use: Sometimes called relocation assistance, this helps the homeowner find a temporary dwelling in case covered damage makes it impossible to live in the home while repairs are getting made or the home gets rebuilt.
4. How much personal property insurance is necessary?
Most people underestimate the value of their personal property. Homeowners should use home inventory software. These home inventory applications are also very handy in case a claim ever needs to get made. Download a free Home Inventory Checklist.
Also, homeowners should understand the difference between having property valued at market or replacement value. Covering a TV set or computer at market value means it would have to get replaced at thrift store prices. By covering it at replacement value, damaged possessions could get replaced by new items.
5. How much liability insurance should homeowners buy?
Typical policies may include $100,000 to $300,000 worth of protection against injury or damage claims by others. People with high net worths may want to extend that with supplemental liability or umbrella insurance policies, and these usually only cost a few more dollars a month.
6. Does the policy include flood insurance?
Typical homeowners insurance policies do not include flood insurance, and this must get purchased separately. An insurance agent can help homeowners buy additional coverage against floods, and the price varies by the risk of floods (flood zone) in a particular area. Find out why you need flood insurance.
7. Is any type of water damage covered?
Water damage could come from storms. It could also come from plumbing problems or even humidity. Mold does not need a lot of moisture to start growing, and it could even thrive in very humid areas. Homeowners would be wise to ask an agent exactly what kind of water damage, including mold, the basic policy covers.
For more homeowners insurance tips, sign up for Southern Oak Advice.