Everybody wants cheap premiums. Folks need good values. Many prices have risen lately. It's easy to see why families hope to stretch budgets. Looking for cheaper rates might help. But homes are an average family's most important asset. Owners are welcome to check prices. They should also compare value. The best insurers are around when you need them.
Compare Florida Homeowners Insurance
What's the best homeowners insurance? These are the four most important things to consider:
Coverage: What's the right coverage? Weigh premiums and risks. Raising deductibles reduces the price. But owners could have higher costs at claim time. The same is true for lowering limits or cutting coverage.
Stability: Can an insurer pay claims? Pay attention to financial ratings. Strong insurers weather the worst Florida storms. Insurers with risky practices might be gone when they are needed the most. Insurers publish ratings on their sites. Learn more about financial stability here.
Service: Does the company focus on customers? Good insurers focus on service. They provide good contact and billing options.
Satisfaction: Does the insurer make people happy? Learn what current customers think. Check customer survey and review sites. Examples are JD Powers and the BBB.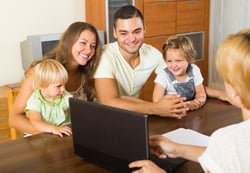 Homeowners Insurance Florida
Finding a Florida homeowners insurance company that meets all of these criteria can be a challenge. Companies like USAA Homeowners Insurance have strong customer satisfaction ratings, but they don't write policies in Florida. Southern Oak Insurance proudly writes Florida homeowners insurance and understands Florida property because we're a company of Floridians protecting Florida residents. Southern Oak has a company focus on customer satisfaction and a reputation for great service. Southern Oak also earned an A- Exceptional financial stability rating® from Demotech. That means Southern Oak is can be trusted to be there after the next minor incident, major storm, and even several major storms in the same year.
As mentioned before, when choosing home insurance for yourself there are many questions to ask. If you still need help, visit our blog post 7 Questions to Ask Your Insurer to get you on the right track.