In some parts of this state, homeowners insurance is both necessary and expensive. As a Florida homeowners insurance company, the people at Southern Oak would like to let local homeowners know about some practical ways to protect homes and qualify for homeowners insurance credits or discounts. In some cases, these discounts could even be large enough to help pay for improvements over time, and they will certainly be worthwhile if they help prevent damage and high insurance claims.
Homeowners insurance wind mitigation: This state authorized wind mitigation inspection form used by Southern Oak Insurance documents a variety of roof improvements that can help reduce the risk of damage from windstorms, hail, and heavy rains. Some examples of roof improvements that help qualify for discounts include secondary water protection and roofs built in compliance with Florida codes from after 2002.
Home security systems: Fire and burglar alarms have been demonstrated to reduce the risk of major claims because they provide early detection. Alarm companies can provide a security certificate that homeowners can deliver to their insurers to earn a discount.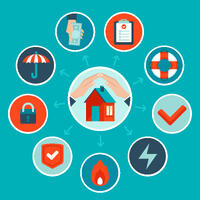 Get More Help Understanding Homeowners Insurance
Many Floridians know that their home is their largest asset, and it is certainly a key part of their financial security. However, a surprising number of homeowners don't really understand what their policies cover or how they could make improvements to protect their homes and maybe get a better deal on coverage.
Local independent insurance agents can help homeowners understand their current coverage. These insurance agents should also offer to provide multiple homeowners insurance quotes that help Florida consumers find an affordable policy that provides the right protection for valuable assets. Click to find an independent insurance agent near you. Consumers are encouraged to ask insurance agents about Southern Oak Insurance, a Florida homeowners insurance company based in Florida and run by Floridians.
Get and instant quote today by visiting our website.